Fighting DUI Charges
Although you may believe that your case is hopeless, it is possible to fight and win your DUI charge. In every DUI case, the State has the burden of proving every element necessary for your conviction, including the legality of the initial stop and approach to the accuracy of the blood test and its introduction at trial.
As a former DUI prosecutor, DUI judge, and as a DUI defense attorney, Bard has handled thousands of DUI cases and has seen them from every angle imaginable. Bard can put that knowledge to use to evaluate your case and to explore every strategy at your disposal.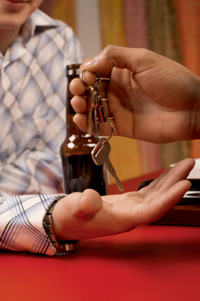 Kentucky's DUI law is tough, even on first offenders. You are probably concerned about whether or not you will go to jail, loss of your license, your criminal record, the increase of your insurance premiums, and your reputation. It is important that those accused of a DUI in this state understand that it is possible to lose your license, even while the case is pending.

Every DUI case is different and needs to be thoroughly evaluated in a face-to-face consultation with the attorney. The Bard Brian Law Offices offers a free initial one-hour consultation to discuss the facts of your case, possible defenses, and full exploration of your options in defending your case. All aspects of your case, including full disclosure of your attorney's fees, are discussed in plain English so that you can fully understand your rights in your case. As a former judge, Bard understands how some lawyers can make the system overly complicated in order to increase their fees.
If you, a friend, or a member of your family has been accused of Driving Under the Influence or a Driving Under the Influence related charge, call Bard for a free consultation. We will evaluate your case, putting our 23 years of experience as a prosecutor, judge, and defense attorney to work for you.
Criminal Charges
There are hundreds of criminal charges and hundreds more statutory and administrative violations under Kentucky law. Years of practice as a prosecutor and defense attorney, as well as his years as a sitting trial court judge give Bard a deep understanding of an individual's rights. The legal system is complex and you need someone willing to fight for you. Don't be treated like a case number or "just another client." Call us for a free consultation and case evaluation.
If you have a legal matter you wish to discuss, please don't hesitate to call. I will gladly speak with you over the telephone or in person, whichever you prefer. Bard